NTU Sports Hall
The NTU Sports Hall was the first building in South-east Asia to use Mass Engineered Timber (MET) technology on a large scale.
The building has a unique wave-like timber roof structure spanning 72 metres (one of the longest in the world), which was constructed without using any temporary scaffold supports. It required only a team of 13 skilled workers and an experienced construction manager.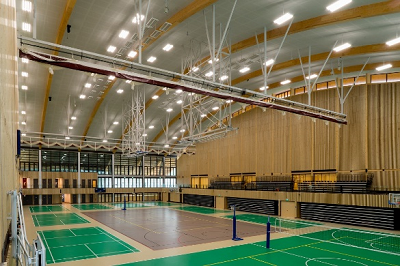 The building is very environmentally-friendly, and is designed with sustainable features that save about 40% in energy and 30% in water consumption. One of the unique features is the use of Passive Displacement Ventilation (PDV) system for cooling. This is also the largest hall in Singapore to be cooled using this highly energy-efficient and silent no-draught air-conditioning system.
This project won,
BCA GREEN MARK PLATINUM AWARD
WORLD IN A PARK GREEN CHAMPION OF SPORTS AND RECREATION CENTER CONSULTANCY AWARD